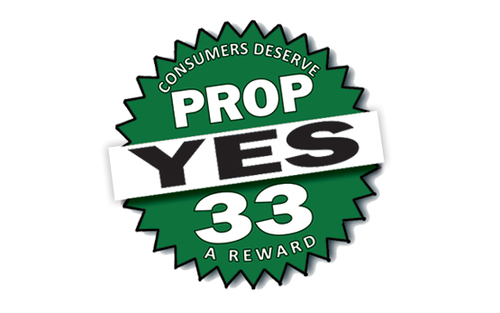 Proposition 33 allows California drivers to keep the discount they have earned by following the law and having car insurance. Presently, California only allows that discount to be given if you stay with the same insurance company.
This practice is uncompetitive and keeps consumers shackled to their existing insurers.
Proposition 33 addresses this by giving more options to the 85 percent of people who have car insurance. If passed, the measure will allow them to:
* Stay with the status quo;
* Negotiate a better deal with their company, with the leverage that they can go elsewhere; OR
* Actually take the discount now made available and shop for a better price with another company.
No one questions that Proposition 33 makes sense for the vast majority of California drivers, who will benefit by the freedom to switch insurance carriers and, in the process, create more competition and lower prices.
Proposition 33 also makes sense for those who once had insurance, but were forced to let it lapse for a range of personal reasons. Today, if you get sick or give up your car to serve in the military, you are not eligible for the discount when you miss a payment. In contrast to the existing system, many more people will be protected under Proposition 33, including:
* Our active military -- those who serve at Travis Air Force Base or are deployed overseas
* People who have been laid off or furloughed for up to 18 months
* Those who need a break in payment for 90 days for any reason, including lapse of payment; all retain the persistency discount.
Children living with their parents will receive the same discount available to their parents. And, for those who are ill or who give up their cars for a number of years, there is a proportional discount that gives 20 percent of the discount for each full year that they were insured.
This incentive to bring the uninsured into the system has earned Proposition 33 the support of the California Association of Highway Patrolmen, which wants safer streets and more insured drivers. Proposition 33 has also earned the support of the Vietnam Veterans of America, the GI Forum, the Veterans of Foreign Wars (VFW) and American Legion, because it helps veterans save money upon reentry into civilian life.
Finally, those who have never had insurance are protected from suffering high insurance costs in California by an ironclad mandate that rates cannot be excessive and must be adequate. Under Proposition 33, the Department of Insurance has ultimate say over all auto insurance rates. The threat of surcharges that occur in deregulated states cannot happen in California.
There is a reason that our state's Highway Patrol officers, firefighters, major veterans' groups, leaders from both parties, ethnic organizations, chambers of commerce and consumer groups all support Proposition 33. The end result is a more competitive insurance market strengthened with healthy regulations that will result in lower prices and safer streets. It is a good deal for all of us.
Read Proposition 33 and decide for yourself at www.YESProp33.com, or visit us on Facebook at www.facebook.com/yesprop33 and on Twitter @yesprop33.
(The author retired from the U.S. Army as a lieutenant colonel, after serving for 21 years, including in Vietnam and Japan)
Speak with a Long Beach auto insurance specialist to help you find the discounts and coverage that is right for you. Visit www.NeighborsPlus.com or call (562) 627-1961 for a free consultation today.