With the holidays fast approaching, many of us will be in our cars to visit family and friends and of course…shop! With so much time behind the wheel of the car, it is easy to forget that distractions such as texting while driving, cellphone use, eating, drinking or grooming while driving will increase the likelihood of a motor vehicle crash.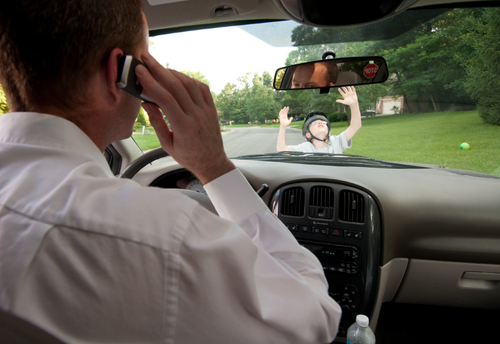 According to the National Highway Safety Administration, roughly one out of every four motor vehicle crashes are caused by distracted driving; that's more than 1.5 million collisions a year or 4,300 crashes a day!
Cellphones
California provisions currently state that adult drivers can only use cellphones if they are a hands-free device.
The California Highway Patrol offers these tips regarding cellphone use:
If possible, dial while the car is not in motion, such as at a traffic light or stop sign.
Learn to operate the phone without looking at it.
Never allow a phone conversation to distract you from driving.
Keep calls brief.
While talking, keep your head up and your eyes on the road, with frequent checks of side and rearview mirrors.
Don't take notes or look up phone numbers while driving.
If you must check information, arrange to call back and do your research while the car is safely stopped.
If you are a driver under 18 years of age, cellphone use is prohibited in California.
Texting
Effective January 1st, 2013, California motorists can dictate, send or listen to text-based messages while they are behind the wheel if they're using voice-activated, hands-free devices. But, just because it is legal, doesn't necessarily mean it is safe or a good idea.
GPS Devices
It might be better than using a map, but sometimes those GPS devices are more hindrance then help. While directions are given aloud, changing your destination usually requires you to hassle with the device, taking your attention away from the wheel. Program your GPS before you get behind the wheel, or find one that is entirely hands-free.
Eating or Drinking
Many times people just don't have the time to sit down and enjoy a meal, so they take a hamburger to go. While it may seem harmless, eating behind the wheel distracts you just like another other activity does. It takes your focus off the wheel and onto the food in front of them.
Grooming
Grooming includes doing your hair, adjusting your make-up, trying to get dressed, and even brushing your teeth. Sometimes it's because you are late to work, and others because you are heading to a date. No matter the reason, grooming while driving is dangerous because it takes a person's attention away from the road. Grooming before driving or once you've gotten to your destination is the safest way to get ready.
It only takes a moment of distraction to cause a crash.
Contact your Long Beach auto insurance expert at Neighbors Plus Insurance Services at (562)627-1961 for more information or a free quote.